Stay Safe but Don't Isolate!
Stay Connected to Student Ministry
With the COVID-19 crisis keeping everyone more at home and socially isolated, finding new ways
to connect with one another is more important than ever! Grace Point Student Ministry offers safe, creative ways for students to connect with other students and continue to grow in their faith and for parents to stay informed and involved in this new season
TUESDAY TOUCHPOINT e-newsletter

REMIND Messaging Service

STUDENTS ONLINE CHURCH Wednesdays, 6:30-8pm, via ZOOM

SOCIAL MEDIA
FaceBook - GPSMedicalCenter
Instagram - gpstudentsmedical


TUESDAY TOUCHPOINT e-newsletter

GROUPME chat service

SOCIAL MEDIA
Facebook - gpstudentswest
Instagram - gpstudentswest
Grace Point Student Ministry exists to lead common students (6th – 12th grade) into uncommon life in Jesus.
We do this by connecting them to the local church body on a weekly basis, engaging them in community through life groups, and challenge them to pursue their calling by serving both locally and globally.
Check us out this week at either campus.

We desire to create an environment that is fun and welcoming for students in all aspects of their faith, where they can make a connection with God and others. Whether a student has grown up in church or is new to the whole experience Student Ministry has a place for them. These services have a wide variety of activities including: games, worship, life group, master teaching, and much more.
Each campus has a slightly different schedule, adjusted to the specifics of each location's facility.
Sunday Morning
Students meet in the Student Building during the 11:30 service only.

Our Sunday service is primarily focused on community! It's a great entry point
for new students. Students are split into small groups by their grade and gender
to study the Word of God.
Students are encouraged to bring their bible and a journal to get the full experience.
Once a month you can count on free breakfast!

Wednesday Night
6:30-8:00pm
Wednesday night service is a great place for students to invite friends, build relationships, and discover their gifts and talents! Our night if filled with games, worship, life group, teaching, food and Servant Clusters.
Servant Clusters are opportunities for your student to find out what
they're passionate about and help lead the Student Ministry.
Doors open at 5:30pm for students
to come hang out, play games, or do homework.

**We will follow all protocols laid out by the city for meeting in public.**
1. Masks are required at all times when indoors.
2. We will do contactless temperature checks at the doors.
3. Safe distancing will enforced in the Worship Center, Lobby, and Game Room.
4. Only bottle water will be served.
Sunday Morning
Students are encouraged to attend either one of our three services
with their families, and then get involved by serving at another service
in one of the many ministry areas at Grace Point.
Wednesdays Night Small Groups - Starting Sept 16
Students meet in small groups in homes for the
first 3 Wednesdays of each month
to grow deeper in their relationship with God and their peers.
To accommodate all families, especially those with multiple children, we are staggering the start times between the 3 groups:
Grades 6 & 7 -- (both male and female) - 6:15pm
Grades 8 & 9 - (both male and female) - 6:30pm
Grades 10, 11, & 12 - (both male and female) - 6:45pm

SIGN UP FOR SMALL GROUPS
Wednesday Night - 6:45-8pm
On the
fourth Wednesday
of the month, we have a Student Service in our
main worship center. It's a great opportunity for students to invite friends,
connect with God, and build relationships. We do a variety of different things ,
including games, worship, life groups, and teaching.
This is a great entry point for any student, no matter their spiritual maturity.
Doors open at 6:30pm for students
to come hang out, play games, or do homework.
**We will follow all protocols laid out by the city for meeting in public.**
We are limiting home numbers to 10 (including the leader).
1. Masks are required at both host homes and the church.
2. Students must maintain social distancing as laid out by host homes and leaders.
3. Each student must fill out a
Weekly Screening Form.
Forms will be sent out each Wednesday morning.
4. Only pre-packaged and bottled drinks will be served.
We are committed to providing the safest environment possible for our students and peace of mind for parents. We will update you as protocols and procedures change.
WEEKLY SCREENING FORM
YEARLY COVID WAIVER FORM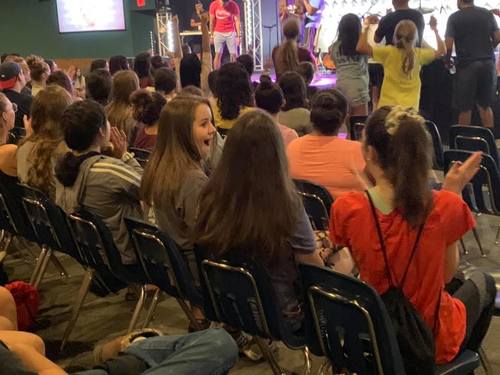 Annual Events for Students
Rooted Weekend
Fiesta Ticket Fundraiser
Spring Break Mission Trip
Senior Brunch
Thursday Thrives
Student Summer Camp
Vision Night
Octastic
Turkey Bowl
For more information on all our current events for Students, check out the events page for the campus you attend.
Interested in serving in Student Ministry?
If you love God and have a heart for students, we have a place for you. Complete and submit the interest form at the link below and we will contact you.